Scalable Organic Waste Recycling Solutions
At EarthSOS, our cutting-edge organic waste recycling services are designed to meet the needs of different communities and organizations. Our versatile system can handle waste volumes ranging from small community systems to large-scale centralised installations. No matter the size of your organic waste recycling requirements, we have a solution for you.
Sound good? The first step is to tell us about your needs.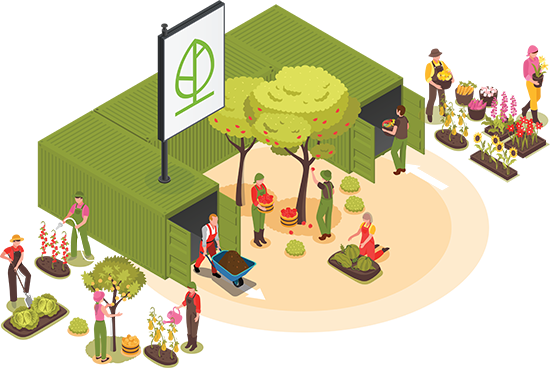 Small-Scale, Batch Systems for Communities
Perfect for community sites, this system can process 500MT to 20,000MT of organic waste every year. It's designed to handle small and diverse waste types and doesn't need much space, starting from just 50m2.
Capacity: 500 – 5,000t p/a
Area: from 50m2
Suits: Schools, community gardens, supermarkets
Ideal for community sites and multiple waste types
Perfect for small-scale organic waste recycling needs
Large-scale regional hubs
Our Community 5000L system is at the core of decentralized waste processing, preventing up to 3,500 tonnes of organic waste from going to landfills each year. With 100 of these systems working together, we can stop a whopping 350,000 tonnes of waste from filling up landfills!
Capacity: 5,000 – 80,000t+ p/a – up to 20,000 households and local cafes/restaurants
Area: 600 – 4,000m2
Suits: Councils, Entrepeneurs
De-centralized processing to promote sustainable community development
Educational initiatives and positive reference points for responsible waste management
High-Volume On-Site Plants for Industry
For industries with a lot of waste, our automated facilities can process 20,000MT to 80,000MT+ of organic waste each year. If needed, these facilities can be expanded with more equipment. They require a space of around 600 to 4,500m2.
Capacity: 5,000 – 80,000t+ p/a (expandable)
Area: 600 – 4,500m2
Suits: High-volume organic waste producers
A fully automated solution for efficient recycling
What can we process?
Our scalable and modular system can turn almost any organic waste into valuable soil conditioner. We have processed the following, and if your problem waste stream isn't on the list, get in touch. We can probably manage it!